Appetizers
PROSCIUTTO & ARUGULA FLATBREAD
Flatbread brushed with roasted garlic and olive oil. Topped with Swiss and blue cheese, caramelized onion and roasted red pepper. Drizzled with balsamic glaze.
MARYLAND CRAB CAKES
Blue crab, scallops and shrimp, pan-seared and served with chipotle sauce.
PRIME RIB SLIDERS (THREE)
On pretzel buns with a horseradish Dijon aioli.
FRESH STEAMED P.E.I. MUSSELS
Marinara or Coconut Curry.
CARIBBEAN COCONUT TIGER SHRIMP
Served with a Thai dipping sauce.
CALAMARI FRITTI
Semolina crusted calamari prepared golden brown and served with an ancho chipotle aioli.
STUFFED HOT BANANA PEPPER ON GARLIC TOAST
Single or Double.
SEARED AHI TUNA
Crusted with sesame seeds and cracked peppercorns. Seared rare and served with wasabi, ginger, soya sauce and cucumber salad.
SCALLOPS WRAPPED IN BACON
Served with Innsville cocktail sauce.
JUMBO SHRIMP COCKTAIL
Chilled select jumbo shrimp with a sharp, zesty cocktail sauce. Comes in 4 or 6.
ESCARGOTS BOURGUIGNONNE
Mushroom caps stuffed with escargot, butter, garlic & herbs. Au Gratin optional.
Homestyle Soups & Salads
CROCK OF FRENCH ONION SOUP
Homemade beef and red wine broth with house croutons topped with Swiss, Parmesan and mozzarella cheese.
INNSVILLE'S OWN NEW ENGLAND CLAM CHOWDER
Made fresh daily. Choice of Cup or Bowl.
SOUP DU JOUR
Chef's daily homemade creations. Choice of Cup or Bowl.
FESTIVE SALAD (THE INNSVILLE'S SIGNATURE SALAD)
Crisp romaine, grated Swiss cheese, sundried cranberries, sliced apples and pears with Innsville's own sweet and sour dressing.
GARDEN CHEF SALAD
Fresh garden greens. Add crumbled blue cheese.
CAESAR SALAD
Crisp romaine, bacon, baked croutons and parmesan cheese tossed in our classic dressing.
SALMON SALAD
Seared Salmon fillet served over chef salad with sundried cranberries, feta in a lemon caper vinaigrette.
ADD TO ANY SALAD
Choice of Chicken Breast, Seared Ahi Tuna, or Garlic Shrimp.
Meat Entrées
PRIME RIB OF BEEF AU JUS
Our house specialty, slow roasted to preserve the meat's natural juices. Served with our famous hot horseradish. Pan blackened upon request. English Cut, Regular Cut, or Innsville Cut available.
FILET MIGNON
The most tender cut of all. Wrapped in applewood-smoked bacon. 6oz. or 8oz. available.
SIRLOIN STEAK (ANCHO MARINATED)
8oz. Topped with roasted garlic and herbed compound butter. Served with sautéed mushrooms.
SIRLOIN STEAK
8oz. With sautéed mushrooms.
DRY RUBBED BLACK ANGUS RIBEYE STEAK
18oz. Certified Angus Prime Rib, cut into steaks, seasoned and char-broiled. Add Danish blue cheese and roasted garlic crust, sautéed mushrooms, and garlic shrimp.
Add Danish blue cheese and roasted garlic crust. Add sauteed mushrooms. Add garlic shrimp.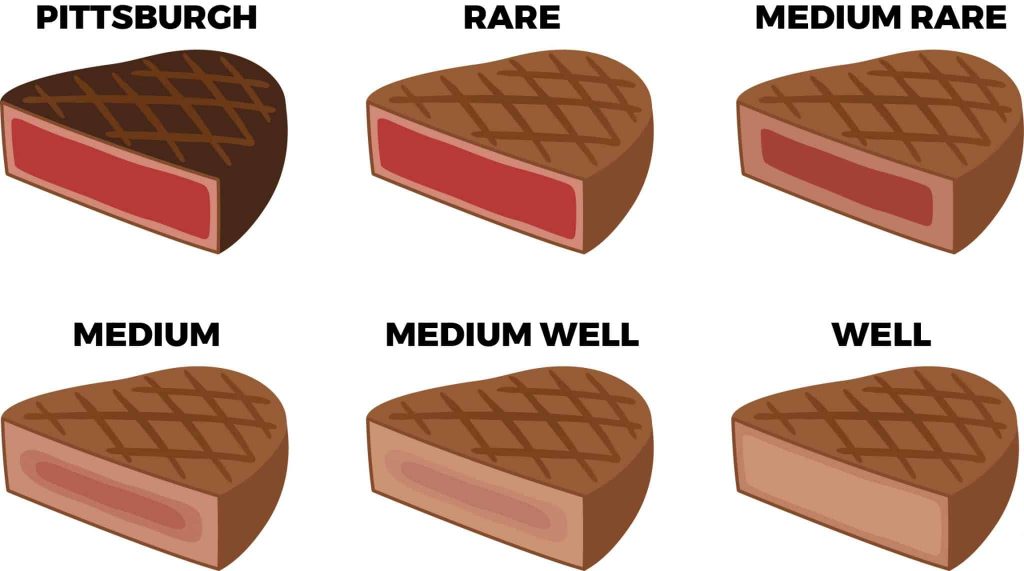 Blue Rare: Cool, blue all the way through
Rare: Cool center, bright red throughout
Medium Rare: Warm center, red throughout
Medium: Warm, pink centre
Medium Well: Small trace of pink in the centre
Well Done: No pink, fully cooked throughout
Pittsburgh: Charred outside
BRAISED LAMB SHANK
Slow roasted to ensure tenderness. Served with mashed potatoes and fresh vegetables.
BABY BEEF LIVER
For liver lovers. Topped with fried onions. Bacon extra.
All above meals served with hot crusty bread, fresh vegetables and choice of potato - baked, roasted garlic mashed, fresh cut fries or rice pilaf.
Seafood Entrees
CATCH OF THE DAY
Priced daily. Consult your server for today's fresh selection.
FRESH ATLANTIC SALMON
Topped with a citrus brown butter. Served with rice and fresh vegetables.
LAKE ERIE YELLOW PERCH
½lb. Dinner or 1lb. Dinner available
INNSVILLE SURF 'N' TURF
6oz. Cuban Lobster tail served with drawn butter, with choice of 8oz. Sirloin Steak, 6oz. Filet, or 8oz. Prime Rib.
Twin tails, two 6 oz. Cuban Lobster tails served with drawn butter
Chicken & Pasta
PECAN CHICKEN
Tender breast of chicken crusted in pecans, pan-seared and topped with a Frangelico cream sauce.
CHICKEN PARMIGIANA
Lightly breaded chicken breast, topped with marinara sauce and mozzarella and cheddar cheese, served with penne noodles.
BEEF & MUSHROOM RAVIOLI
Tenderloin tips, roasted red pepper, arugula, caramelized onions, mushroom ravioli tossed in a Dijon cream sauce. Finished with Parmesan cheese and lemon zest.
PASTA PRIMAVERA
Mushrooms, roasted red peppers, onions and arugula, served over fettuccine, in a pesto cream sauce. Add chicken breast and jumbo shrimp.
*Note: Prices on this website may not be accurate. Please visit the restaurant for up-to-date pricing.