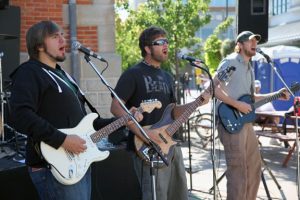 Off The Record is the love child of two former bands from Grimsby, ON. Playing their favourite classic rock tunes at your local bars and pubs, every show is sure to be an occasion to come out and see some great live entertainment. They have played many corporate functions, weddings and have recently won The Best Bar Band Award at The 2012 Niagara Music Awards.
This five piece band has built up a set list to be reckoned with, combining the favourite hard rock classics from the likes of AC/DC. Black Sabbath, Led Zeppelin, and ZZ Top, to the sing-along ballads of The Sheepdogs, The Black Keys, Sublime, The Beatles, and Doobie Brothers to name a few.
Every member of the band brings their own influences to the table and collectively, they create a sound that is unlike any other cover band playing today.
For details, please visit www.offtherecordrock.com